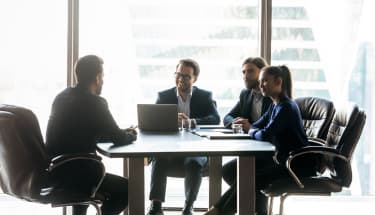 Food Production Jobs & Staffing Services in Harrisburg, PA
Are you currently seeking employment in the food production industry in Harrisburg? Finding a position in the food production industry can be challenging without the proper guidance. Luckily, MJ Morgan Group has the recruitment specialists available to help Harrisburg job-seekers get placed in desirable food production positions.
At MJ Morgan Group, our people-driven staffing agency proudly serves the Harrisburg region, helping candidates get successfully placed into the food production industry. We provide superior career counseling services, offering exceptional benefits and support while taking a personalized, friendly approach to your job placement needs. Contact our team to start speaking with a recruitment specialist today!
Tags:
All Jobs:
Quality Control
Warehouse
Admin
Job Title
Location
QA Tech
Alexandria, VA

QA Tech

Actively seeking Quality Control/Assurance in the Northern VA area. 1st and 2nd shift available.

MUST have experience working in a Food environment!

Responsibilities:

Assures consistent quality of production by developing and enforcing good automated manufacturing practice (GAMP) systems; validating processes; providing documentation; managing staff.

Validates quality processes by establishing product specifications and quality attributes; measuring production; documenting evidence; determining operational and performance qualification; writing and updating quality assurance procedures.

Please contact me for more information

Apply Now

Warehouse Associate
Park Heights, MD

Warehouse Associate

Warehouse Associate need for a food production facility in Baltimore, MD.

Shifts:

6AM-Finish

A LOT of overtime available

Monday-Friday, Some Saturdays



3:30PM- Finish

A LOT of overtime available

Monday-Friday, Some Saturdays



Requirements:

Must pass a background check
Must pass a drug test
Must be able to work in a cold environment (30-40 degrees)
Waterproof steel-toe boots are required

Apply Now

Production Operator
Savage, MD

Production Operator

Looking for energetic team members to join a fast growing company! Starting pay rate $16/hr with possibility for raise after 90 days. Minimum 40 hours per week with possibility for overtime.

Responsibilities:

• Assemble shipping boxes, insert liners and ice packs.

• Palletize completed orders

• Verify sleeve accuracy in each Selection Zone/Bay to match assigned placement.

• Pack, load, and ship outbound orders to meet required timelines for daily departure.

• Audit order accuracy and saleable condition during Packing Operations.

• Operate all equipment safely and per procedure

• Staging areas are to be properly numbered, stocked, staged, and delivered both while organized in the staging area, as well as when delivered for selection.

• Keep floors clean and clear of debris.

• Complete and verify Bill of Lading for outbound shipment



NIGHT SHIFT AVAILABLE IMMEDIATELY! (4:30PM TO 3AM)

Apply Now

Line Lead/QA
Rosedale, MD

Line Lead/QA

Job Description;

- Responsible for following line specific S.O.P.s

- Strictly follows line Quality Leader instructions

- Responsible for keeping pace with assembly line speeds

- Evaluates off quality packaging and separates per acceptance criteria from products to be shipped

- Communicate with the Production Supervisor and the Quality Leader on QA/QC related concerns

- Inspects ingredients for foreign matter prior to adding to hoppers

- Performs assigned site cleaning schedule expectations

- Any other function management deems essential

- Fluent in English

Apply Now

Housekeeping/EVS
, MD

Housekeeping/EVS

The Environmental Housekeeper performs cleaning functions as assigned to provide a clean, germ-free environment for patients, visitors and staff.

40 hours per week
1st, 2nd, and 3rd shifts available
Every other weekend required
Must be able to pass background and drug test

Must be willing to get COVID vaccinated

Apply Now

Production Worker
Orchard Beach, MD

Production Worker

Currently seeking a General Laborer in Baltimore, MD. This person will be responsible for moving and processing received waste through established practices. This person will unload box waste from trailers, place boxes on conveyor, and record the number of boxes put on conveyor belt for documentation and billing purposes.

It is three days on (12-hour shifts), and then three days off. For example, if the employee works Monday, Tuesday, Wednesday, they then have off Thursday, Friday, Saturday. They come back to work on Sunday.

1st Shift – 6 am – 6 PM

2nd Shift– 6 pm – 6 AM

Apply Now

Warehouse Worker
Odenton, MD

Warehouse Worker

Warehouse associate position open in Odenton, MD.

AM, PM and 3rd shift openings. Multiple openings on each shift

$15 - $16/hr

Monday to Friday schedule

Warm environment

Put books on the printing line and pack boxes

Must speak English

Need a resume or a write up




Apply Now

Recruiter
Nashville, TN

Recruiter

The recruiter position is responsible for interviewing, testing and referring applicants for clerical, technical, administrative and warehouse positions throughout the company. This position must possess considerable skill in interviewing techniques, a good knowledge of all clerical and specialized functions in the company, a basic understanding of the company's organizational structure as well as an extensive knowledge of personnel policy and procedure and federal and state laws regarding employment practices. You will manage a small office of 2-3 employees and manage various accounts.

Essential Functions

Represent and participate in various recruiting events (job fairs, community events etc.) to build and foster strong relationships within the community, local agencies.
Introduce and build on the company brand to make MJ Morgan Group a company of choice with qualified applicants.
Acts as a liaison between the clients and MJ Morgan Group.
Screens and interviews applicants.
Conducts Employment Eligibility Verification (I-9) Forms and process them in EBI.
Coordinates background checks and new-hire drug testing.
Enter applicant information and documentation into CRM system.
Coordinates with hiring manager(s) to determine best recruiting process for position(s).
Processes job requisitions.
Update and maintain employee profiles and information.
Drive to various locations to meet with candidates
maintain a good relationship with potential candidates, current/employees and clients
Customer service oriented

Requirements

This job operates mainly in the field and in part in a professional office environment . This role routinely uses standard office equipment such as computers, phones and photocopiers/scanners.

Position Type/Expected Hours of Work

This is a Full-time position that works 40 hours a week, Monday – Sunday. Work schedule may vary depending on need. Occasionally, may be required to work weekends and after work hours.

Travel

Travel is expected for this position.

Required Education and Experience

High school diploma (required),
Ability to multitask and perform effectively in a high-volume, diverse environment
Ability to communicate effectively orally and written with staff, candidates and customers
Proficient in Microsoft Office
Superior organization skills
Valid driver's license

Additional Eligibility Qualifications

Ability to speak, understand, read, and write fluently in at least one language besides English e.g. Spanish, French, Nepalese or Amharic. Preferably Dari or Spanish

Apply Now
What Are Food Production Jobs?
Food production workers are individuals who work in facilities that serve food and are mainly responsible for preparing meals. Typically, food production employees will handle the following responsibilities in the workplace:
Receiving food items and materials
Storing food in the proper areas
Safely operating food processing equipment
Maintaining food supplies
Handling and mixing ingredients
Assessing overall food quality
Those working in the food production industry in Harrisburg will also need to ensure HIPAA, OSHA, and USDA guidelines are properly followed, along with necessary safety and sanitation protocols. MJ Morgan Group has successfully placed countless candidates in the food production industry, and you could be next! Contact our recruiting specialists to get started on your job search today.
Hiring & Recruiting Solutions
Whether you're broadening your career or searching for the perfect candidate, let MJ Morgan offer solutions catered to your unique needs.
Get Started Today
What Makes a Good Candidate for Food Production Jobs in Harrisburg?
Employees in food production are most successful if they possess the following unique skill sets and qualities:
Basic cooking skills
Dexterity
Attention to detail
Exceptional time management
Teamwork/interpersonal skills
Prioritization and organization of tasks
Ability to work in fast-paced environment
Many food production jobs in Harrisburg require only a high school diploma and offer competitive pay with unique benefits. It is an excellent employment opportunity for those looking to kickstart their careers in the food industry as a whole. If you're interested in becoming a food production worker in Harrisburg, contact MJ Morgan Group to start speaking to your recruitment specialist today.
Consider Food Production Job Placement with MJ Morgan Group!
At MJ Morgan Group, we are committed to helping job-seekers get placed in the food production jobs they desire. Working closely with each candidate, our recruitment specialists thoroughly review their skill set and resume to ensure they properly align with the desired food production position.
When you select our staffing agency, we'll invite you to an initial interview with one of our recruiters. From there, we'll perform a pre-employment screening, and if all goes well, we'll schedule a second interview with your future employer. Every candidate placed through our staffing agency receives the following:
Weekly pay periods with direct deposit
Holiday pay
Career counseling
And much more
Your journey into the food production industry starts with MJ Morgan Group. Start talking to one of our recruitment specialists to kickstart your food production career today!
FAQs About Food Production Jobs
What is a food production job?
Food production jobs can actually encompass a wide variety of different job types, but they all share the core goal of preparing meals. These are jobs at places that serve food, from restaurants to nursing homes to school cafeterias, and they can encompass all the behind-the-scenes and on-the-scene work that takes place to get food prepared and in front of people.
What jobs are there in the food industry?
Food production jobs can involve a lot of different specific skill sets, and the actual day-to-day work can be quite different between them. A food production job in one location may have a strong emphasis on mechanical know-how and following a specific process closely, with heavy reliance on using certain machines, while another may involve hands-on cooking and require versatility to deal with different forms of meal prep.
How do I get a job in the food industry?
The requirements to get in at the entry-level in the food industry are relatively straightforward, such as manual dexterity, attention to detail, and basic cooking skills. Of course, this is just a general rule; because food production encompasses such a wide variety of jobs, different skill sets and backgrounds can absolutely be necessary if you want to get better-paying or more prestigious jobs. Surprisingly, some food production jobs may require no understanding of cooking whatsoever if they're more focused on the proper use of machines.
What does a food production supervisor do?
Food production supervisors coordinate the various other workers in a food production environment to make sure all duties are completed properly, efficiently, and in accordance with all standards and requirements. Their duties would include maintaining sanitation standards, overseeing employee performance, scheduling, making sure technical problems are resolved in a timely manner, training new employees or new methods, overseeing various manufacturing or processing processes, and more. To put it simply, a food production supervisor makes sure everyone else's food production job is being done properly and smoothly.
Get Connected
Light Industrial Silo Sidebar
National Brand. Your Local Team.
From the DC metro area to the heart of Texas, we specialize in matching employers with job seekers. We do the hard work of hiring. From part-time jobs to payroll services to long-term consulting, we have a service that meets your needs.
National Brand.
Your Local Team.
Office Locations:
From the DC metro area to the heart of Texas, we specialize in matching employers with job seekers. We do the hard work of hiring. From part-time jobs to payroll services to long-term consulting, we have a service that meets your needs.
Labor Market Analysis!
Light Industrial Silo Labor Market Analysis