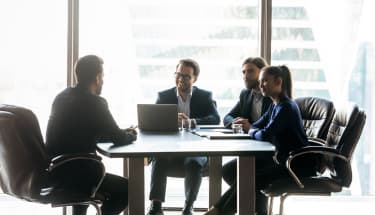 Light Industrial Staffing in Manassas, VA
Successful job placement or recruitment requires the experience, knowledge, and resources that an established staffing agency can provide. MJ Morgan Group has been serving potential employees and businesses for years, offering superior benefits and support to ensure optimal placement for driven candidates.
If you're looking for light industrial positions in Manassas or the surrounding areas, our team has you covered. Enjoy the substantial benefits of working with our people-driven staffing agency — we're the best choice for friendly, reliable staffing services.
Are you looking for light industrial jobs "near me," or are you looking to learn more? Reach out to our team online or give us a call. We're always glad to help! 
Tags:
All Jobs:
Quality Control
Warehouse
Admin
Job Title
Location
QA Tech
Alexandria, VA

QA Tech

Actively seeking Quality Control/Assurance in the Northern VA area. 1st and 2nd shift available.

MUST have experience working in a Food environment!

Responsibilities:

Assures consistent quality of production by developing and enforcing good automated manufacturing practice (GAMP) systems; validating processes; providing documentation; managing staff.

Validates quality processes by establishing product specifications and quality attributes; measuring production; documenting evidence; determining operational and performance qualification; writing and updating quality assurance procedures.

Please contact me for more information

Apply Now

Warehouse Associate
Park Heights, MD

Warehouse Associate

Warehouse Associate need for a food production facility in Baltimore, MD.

Shifts:

6AM-Finish

A LOT of overtime available

Monday-Friday, Some Saturdays



3:30PM- Finish

A LOT of overtime available

Monday-Friday, Some Saturdays



Requirements:

Must pass a background check
Must pass a drug test
Must be able to work in a cold environment (30-40 degrees)
Waterproof steel-toe boots are required

Apply Now

Production Operator
Savage, MD

Production Operator

Looking for energetic team members to join a fast growing company! Starting pay rate $16/hr with possibility for raise after 90 days. Minimum 40 hours per week with possibility for overtime.

Responsibilities:

• Assemble shipping boxes, insert liners and ice packs.

• Palletize completed orders

• Verify sleeve accuracy in each Selection Zone/Bay to match assigned placement.

• Pack, load, and ship outbound orders to meet required timelines for daily departure.

• Audit order accuracy and saleable condition during Packing Operations.

• Operate all equipment safely and per procedure

• Staging areas are to be properly numbered, stocked, staged, and delivered both while organized in the staging area, as well as when delivered for selection.

• Keep floors clean and clear of debris.

• Complete and verify Bill of Lading for outbound shipment



NIGHT SHIFT AVAILABLE IMMEDIATELY! (4:30PM TO 3AM)

Apply Now

Line Lead/QA
Rosedale, MD

Line Lead/QA

Job Description;

- Responsible for following line specific S.O.P.s

- Strictly follows line Quality Leader instructions

- Responsible for keeping pace with assembly line speeds

- Evaluates off quality packaging and separates per acceptance criteria from products to be shipped

- Communicate with the Production Supervisor and the Quality Leader on QA/QC related concerns

- Inspects ingredients for foreign matter prior to adding to hoppers

- Performs assigned site cleaning schedule expectations

- Any other function management deems essential

- Fluent in English

Apply Now

Housekeeping/EVS
, MD

Housekeeping/EVS

The Environmental Housekeeper performs cleaning functions as assigned to provide a clean, germ-free environment for patients, visitors and staff.

40 hours per week
1st, 2nd, and 3rd shifts available
Every other weekend required
Must be able to pass background and drug test

Must be willing to get COVID vaccinated

Apply Now

Production Worker
Orchard Beach, MD

Production Worker

Currently seeking a General Laborer in Baltimore, MD. This person will be responsible for moving and processing received waste through established practices. This person will unload box waste from trailers, place boxes on conveyor, and record the number of boxes put on conveyor belt for documentation and billing purposes.

It is three days on (12-hour shifts), and then three days off. For example, if the employee works Monday, Tuesday, Wednesday, they then have off Thursday, Friday, Saturday. They come back to work on Sunday.

1st Shift – 6 am – 6 PM

2nd Shift– 6 pm – 6 AM

Apply Now

Warehouse Worker
Odenton, MD

Warehouse Worker

Warehouse associate position open in Odenton, MD.

AM, PM and 3rd shift openings. Multiple openings on each shift

$15 - $16/hr

Monday to Friday schedule

Warm environment

Put books on the printing line and pack boxes

Must speak English

Need a resume or a write up




Apply Now

Recruiter
Nashville, TN

Recruiter

The recruiter position is responsible for interviewing, testing and referring applicants for clerical, technical, administrative and warehouse positions throughout the company. This position must possess considerable skill in interviewing techniques, a good knowledge of all clerical and specialized functions in the company, a basic understanding of the company's organizational structure as well as an extensive knowledge of personnel policy and procedure and federal and state laws regarding employment practices. You will manage a small office of 2-3 employees and manage various accounts.

Essential Functions

Represent and participate in various recruiting events (job fairs, community events etc.) to build and foster strong relationships within the community, local agencies.
Introduce and build on the company brand to make MJ Morgan Group a company of choice with qualified applicants.
Acts as a liaison between the clients and MJ Morgan Group.
Screens and interviews applicants.
Conducts Employment Eligibility Verification (I-9) Forms and process them in EBI.
Coordinates background checks and new-hire drug testing.
Enter applicant information and documentation into CRM system.
Coordinates with hiring manager(s) to determine best recruiting process for position(s).
Processes job requisitions.
Update and maintain employee profiles and information.
Drive to various locations to meet with candidates
maintain a good relationship with potential candidates, current/employees and clients
Customer service oriented

Requirements

This job operates mainly in the field and in part in a professional office environment . This role routinely uses standard office equipment such as computers, phones and photocopiers/scanners.

Position Type/Expected Hours of Work

This is a Full-time position that works 40 hours a week, Monday – Sunday. Work schedule may vary depending on need. Occasionally, may be required to work weekends and after work hours.

Travel

Travel is expected for this position.

Required Education and Experience

High school diploma (required),
Ability to multitask and perform effectively in a high-volume, diverse environment
Ability to communicate effectively orally and written with staff, candidates and customers
Proficient in Microsoft Office
Superior organization skills
Valid driver's license

Additional Eligibility Qualifications

Ability to speak, understand, read, and write fluently in at least one language besides English e.g. Spanish, French, Nepalese or Amharic. Preferably Dari or Spanish

Apply Now
What Are Light Industrial Jobs?
Light industrial is an umbrella term for a variety of positions within distribution, manufacturing, quality control, testing, or other small-scale tasks that do not require the knowledge or use of heavy machinery. This is a very diverse field of work, which holds a ton of potential for both new and veteran job seekers.
The light industrial jobs you'll find with our Manassas staffing agency might include:
Inventory clerk
Food production
Forklift operator
Product distribution
Packaging
Electronics assembly
Quality control tester
Automated machine operator
Skilled technician
Coordinator
Within light industrial jobs, there are plenty of positions both for entry-level employees and experienced workers. For those looking to find a stable career or long-term placement, light industrial is a great place to start, as positions within these types of jobs frequently provide good opportunities for learning skill sets and many chances for advancement and benefit earning.
Hiring & Recruiting Solutions
Whether you're broadening your career or searching for the perfect candidate, let MJ Morgan offer solutions catered to your unique needs.
Get Started Today
What Makes a Good Candidate for Light Industrial Jobs in Manassas?
While there are many wonderful opportunities to be found in the light industrial sphere, the jobs can often be somewhat demanding. Here are a few of the skills someone seeking a position in light industrial should possess:
Ability to handle physically intensive work – Long periods of standing or sitting, as well as frequent lifting and fast-paced work, are all hallmarks of light industrial jobs. These aren't always required in every position, but they are vital to many.
Flexible availability – Weekends, overtime, and odd shits can sometimes be common to light industrial work, as meeting quotas is critical to the success of these businesses.
Good organization and self-motivated speed – Being able to focus and work fast are highly valued in light industrial work.
Do you have what it takes for a light industrial job in Manassas? Contact MJ Morgan Group to find placement with our staffing agency today!  
Light Industrial Career Placement in Manassas with MJ Morgan Group
We keep an updated list of jobs that feature descriptions and other job-relevant information. If you find a job that interests you, fits your needs, or otherwise piques your curiosity, don't hesitate to reach out to our team to find out more. We're always happy to help you find the job that fits your needs best, and our staffing agents will work diligently with you to match you with a job relevant to your skills, interests, and experience level.
Our placed employees and workers enjoy a great range of competitive benefits, including:
Weekly pay periods
Direct deposit options
Holiday pay
Career counseling
And much more
Find out more from our light industrial staffing agency in Manassas by reaching out online, or give us a call if you have questions. We look forward to working with you!
Frequently Asked Questions About Industrial Work
What does light industrial work mean?
Light industrial work requires more labor than machinery. These positions use fewer materials and generate less waste than heavy industrial positions. In most cases, employees in light industrial work use partially produced materials to create finished items. Light industrial workers may assemble auto parts, assist in completing food products, assemble furniture, package goods, assemble electronics, complete product assembly, perform quality control tests, and more. Light industrial workers must be physically fit (light doesn't mean easy!) and pay close attention to details. Further, light industrial workers must have the ability to adhere to established production standards and maintain a steady rate of work throughout the day.
What is the difference between light and heavy industry work?
Light industry work requires fewer materials and less power. Most light industries use a small number of raw materials to create lightweight goods such as electronics, furniture, etc. They are typically low-pollution endeavors but require the same adherence to regulatory requirements as heavy industry. Most light industries generate products that are ready for use by the end-user.
Compared to light industry, heavy industry work requires a significant quantity of both raw materials and power. It also typically generates more noise and emissions. Heavy industry work relies on large, heavy equipment and facilities to perform the required tasks, such as oil and gas refineries, steel manufacturing, chemical production, machine manufacturing, etc. Most, but certainly not all, heavy industry work generates goods that are integral to the operation of other industries and the production of other goods.
Why are light industrial areas located near residential areas?
Because light industrial applications generate less air, sound, and water pollution, most zoning laws consider them safe, and they can be located near residential areas. Most often, homeowners have no idea there is a light industrial facility nearby. This depends on the municipality; some municipalities will allow certain light industries to be located near residential areas, while others may not.
Are you ready to pursue a rewarding light industry career? At MJ Morgan Group, our team of staffing professionals can help put you on a path towards a financially secure career. We encourage you to contact us at 833-656-9675 to learn more about the opportunities we currently have available in Manassas and Northern Virginia. 
Get Connected
Light Industrial Silo Sidebar
National Brand. Your Local Team.
From the DC metro area to the heart of Texas, we specialize in matching employers with job seekers. We do the hard work of hiring. From part-time jobs to payroll services to long-term consulting, we have a service that meets your needs.
National Brand.
Your Local Team.
Office Locations:
From the DC metro area to the heart of Texas, we specialize in matching employers with job seekers. We do the hard work of hiring. From part-time jobs to payroll services to long-term consulting, we have a service that meets your needs.
Labor Market Analysis!
Light Industrial Silo Labor Market Analysis