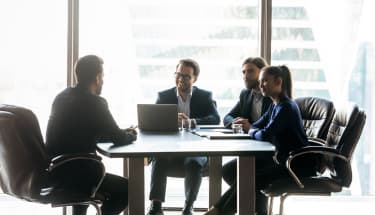 Sanitation Jobs in Harrisburg, PA
Whether you're a job seeker looking for a stable source of work that offers growth and skill development, or you're an experienced sanitation worker in need of consistent pay, MJ Morgan Group can provide the resources you're looking for. With over 30 years of experience in the industry, our staffing agency can provide the necessary outlets that will set you up for success.
Looking for sanitation jobs in Harrisburg? Connect with our local staffing agency online, or call our nearest location to speak with a staffing agent now!
What Are Sanitation Jobs?
Sanitation is an industry with a wide range of work opportunities centered around maintaining clean, safe, and sterile work and social environments for guests and employees. Work can be as simple as trash collection and disposal, or it can involve more intricate tasks such as disinfecting, surface sanitization, and even the development of comprehensive facility sanitation programs.
Hiring & Recruiting Solutions
Whether you're broadening your career or searching for the perfect candidate, let MJ Morgan offer solutions catered to your unique needs.
Get Started Today
Sanitation Job Titles
There are a number of positions in almost every Harrisburg, PA industry that qualify as sanitation jobs. Some of the most common industries that employ sanitation workers include:
Hospitals and medical facilities. Typical job responsibilities include cleaning, sanitation, and other environmental services and support duties involved in medical facility and hospital maintenance. Some positions require experience in infectious and hazardous waste handling and disposal. There are also safety standards and procedures that candidates must be familiar with or be trained in.
Food service businesses. Food service sanitation workers perform tasks like assisting with storage of delivered food products, maintaining general cleanliness and safety on the floor, restrooms, back offices, and seating areas, and promoting a positive company image through friendly, courteous customer service.
Educational facilities and schools. Sanitation workers in schools and other educational facilities are charged with maintaining a clean and orderly environment to protect the safety and health of students, teachers, and staff. They often ensure the building is locked and unlocked as required and may be asked to push and pull equipment weighing more than 50 pounds.
Public gathering venues. In addition to keeping all public areas clear of debris and trash, public place sanitation workers often assist in setting up and breaking down tables and chairs for park events, service public restrooms, and spot-clean windows and walls.
Commercial offices and workplaces. Depending on the type of business, sanitation workers in offices and other commercial workplaces are tasked with cleaning and sanitizing offices, restrooms, and common areas, removing waste and rubbish, and maintaining fixtures like directory boards, artworks, and other wall hangings.
Arenas. Harrisburg is home to several well-known arenas and sports complexes. Typical responsibilities include maintaining locker rooms, lobbies, and bathrooms, as well as interacting with the public in a professional and helpful manner.
MJ Morgan Group provides the full range of tools you need to begin, or continue, your career in sanitation work. Employees within our pool gain a pre-employment screening that will provide all necessary immunizations, drug screens, and background checks — these are required for employees within sanitation work and sanitation careers.
Think sanitation jobs might be the right fit for your needs? Connect online to get started!
What Makes a Good Candidate for Sanitation Jobs?
Sanitation jobs can vary considerably in their requirements and work pace, but all jobs within the sphere demand a few particular skills that will serve you well. Sanitation employees need:
Physical capabilities: Lifting, bending, and a fair amount of walking are all required of many sanitation employees.
A great attention to detail: Sanitation jobs are responsible for more than simply keeping a facility looking nice. The health of visitors and employees depend on your ability to perform your duties thoroughly and with precision.
Flexibility in schedule and work: Hours can be very diverse in sanitation, as you often will need to perform work outside of normal operating hours of the facilities you're cleaning. Weekends and odd hours are often necessary.
If you've got the dedication and skills, MJ Morgan Group has the job opportunities. Get started with our team today to find sanitation jobs in Harrisburg, PA!
Start Your Sanitation Career with MJ Morgan Group in Harrisburg, PA Today!
For over three decades, our team has built a reputation for providing job seekers and employers with top-notch opportunities. We genuinely care about the well-being and satisfaction of all parties, and we will strive to ensure employees are matched with the opportunities they deserve.
Job seekers can use our online tools to find local jobs — if you qualify, submit an application with our team! We can set you up with an interview, and then after you knock that out, we can provide all of the pre-screening processes necessary to get you started.
Employees partnering with MJ Morgan Group benefit from a variety of advantages, including:
Holiday pay
Direct deposit payment
Weekly paychecks
Career counseling
and much more!
Whether you're seeking sanitation jobs or you're a sanitation business in need of dependable employees in Harrisburg, you can count on MJ Morgan Group. Get in touch today!
Frequently Asked Questions about Harrisburg, PA Sanitation Jobs
Why should I work with MJ Morgan Group to find a sanitation job?
No agency knows the Harrisburg, PA sanitation employment marketplace better than MJ Morgan Group's specialists!
What happens once I apply for a Harrisburg, PA sanitation job online?
Once you identify the sanitation positions you're interested in and qualify for, submit your online application. If your qualifications match one of our available sanitation jobs, we'll schedule an interview for you with one of our recruiters. Once you pass our pre-employment screening process, a recruiter will schedule an interview for you with one or more employers.
I applied for a sanitation worker position in Harrisburg, PA. Why haven't I heard back from you?
If you qualify for a sanitation position listed on MJ Morgan Group's website but haven't heard back from one of our recruiters, please follow up by contacting us online or calling us at 833-656-9675.
Get Connected
Light Industrial Silo Sidebar
National Brand. Your Local Team.
From the DC metro area to the heart of Texas, we specialize in matching employers with job seekers. We do the hard work of hiring. From part-time jobs to payroll services to long-term consulting, we have a service that meets your needs.
National Brand.
Your Local Team.
Office Locations:
From the DC metro area to the heart of Texas, we specialize in matching employers with job seekers. We do the hard work of hiring. From part-time jobs to payroll services to long-term consulting, we have a service that meets your needs.
Labor Market Analysis!
Light Industrial Silo Labor Market Analysis