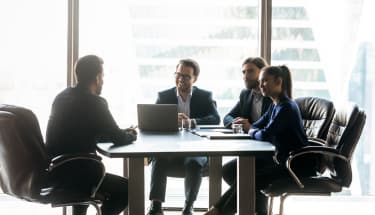 Professional Services Jobs for Employees
Start Your Career With MJ Morgan Group
We're here to help you reach your career goals. Start by reading the job descriptions on this page, and if something catches your eye, submit an application online. If you need help writing a resumé or preparing for a job interview, check out our Assessment Center for useful tips.
Next, we review your resumé, and if you match an available position, we schedule an interview with one of our recruiters. After nailing the interview and passing the pre-employment screenings, we arrange a meeting with your potential employer.
If recruited, you'll receive great benefits from MJ Morgan Group, including holiday pay, direct deposit, weekly paychecks, career counseling, and more. You'll also begin an exciting career with opportunities to grow in the future.
Job hunting for professional services jobs is a painstaking process. You need an experienced staffing firm to help you find career opportunities in the Baltimore area.
With over 15 years of experience in professional recruiting, the recruiters at MJ Morgan Group are well-equipped to help you with professional services job placement. We simplify the application and interviewing process to increase your job prospects and ensure you find a position that matches your career goals.
We also offer benefits for you and your family and even provide transportation services as needed.
Find the professional services job that's right for you. Contact MJ Morgan Group to get hired.
What Are Professional Services Jobs?
Professional services jobs usually involve working at a desk in an office. Some positions are entry-level, while others require years of experience.
Interestingly, the "product" in this industry is usually the person delivering the service. Your clients may be demanding, deadlines may be tight, and competition may be fierce. This makes professional service jobs fast-paced and complex, which can be challenging and rewarding.
While professional services employees are expected to give it their all, employers are also responsible for training and preparing their team for success. Then, as you prove your competency, you can expect to be rewarded with career advancements and pay increases.
Some specific job fields and employer industries we work with include:
If you're qualified for these types of jobs, we can help you find the ideal position and jump-start your career.
What Makes a Good Candidate for Professional Services Jobs?
MJ Morgan Group was formed to fill a need for professional job placement services nationwide. We work with leading Washington, DC-area employers, so we're intimately familiar with what makes the best candidates for professional jobs.
From recent college graduates to experienced business professionals and consultants, the best candidates for professional services jobs have these attributes:
People skills: Be prepared to work one-on-one with customers who need your services.
Computer knowledge: Many professional jobs involve working on a computer, so you should feel comfortable doing this.
Flexibility: To rise to the challenge of a professional service job, you must be able to adapt to the situation. Your clients' needs and the scope of the industry are constantly evolving, and you must change with them.
Professional Services Jobs Assistance for Employers
Finding the right people to work for your professional organization requires a collaborative, personalized approach. MJ Morgan Group has the experience and expertise to locate and place candidates who can make a real difference in your business' success.
Named by the Baltimore Business Journal as one of the largest professional search firms and largest temporary staffing agencies in the area, MJ Morgan Group has successfully placed talented candidates in accounting, financial, and IT positions, and more for multiple local businesses.
For over 15 years, we've helped area employers find the skilled talent they need to maximize productivity and grow their bottom line.
MJ Morgan Group is much more than a staffing firm. Our customized services include an in-depth discussion of your company's culture, its initiatives, and what you're looking for in an ideal candidate. We may be smaller than the big staffing firms, but the advantages we offer are anything but small:
We're a diverse company ourselves, which means we can work with employers and candidates from many different backgrounds.
Our team members stay with us for a long time. That means you get to work with the same consultant and staffing expert time and again. No "new face" every time you need a new hire.
We understand the local market in ways larger, national firms do not. We build relationships with employers and candidates alike, making it easier to place the right person.
Your business needs change from day to day and year to year. Partnering with MJ Morgan Group is one of the best steps you can take to help your organization find the right people who can ensure your business's success.
For questions about our professional job listings nationwide, check out our frequently asked questions or contact us. We're dedicated to your success, so don't hesitate to reach out.
Frequently Asked Questions
Do you need a degree for a professional office job?
While it's still common for jobs to list two- or four-year degrees as a requirement, this expectation is falling out of practice more and more. Many positions ask for relevant work experience as an alternative to a degree. There are many other ways to demonstrate qualifications. We can help you maximize your experience and certifications to help you stand out from other applicants. 
Are professional industry certifications worth it?
This depends on a variety of factors, including the industry and position you're applying for. There are many great free or inexpensive programs out there that offer professional industry certifications, and it can't hurt to add certifications to your resume, as long as they're relevant to your field. 
What if I don't see an open position in my area?
The job market is changing every day, and new positions open up regularly. That's why it's important to keep in touch with MJ Morgan Group to stay on top of available jobs near you. You can fill out a general application with us, and we'll keep it on file for future positions that may match your skill set and career goals.
National Brand. Your Local Team.
From the DC metro area to the heart of Texas, we specialize in matching employers with job seekers. We do the hard work of hiring. From part-time jobs to payroll services to long-term consulting, we have a service that meets your needs.
National Brand.
Your Local Team.
Office Locations:
From the DC metro area to the heart of Texas, we specialize in matching employers with job seekers. We do the hard work of hiring. From part-time jobs to payroll services to long-term consulting, we have a service that meets your needs.