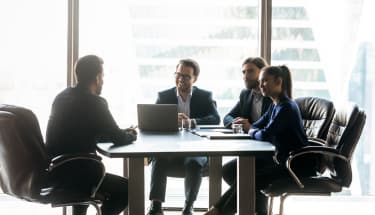 Engineering Jobs in the DMV, Ohio, Texas & Tennessee
MJ Morgan Group specializes in providing staffing services for numerous industries in the professional and light industrial sectors. Our engineering division aims to pair qualified engineers with job openings in DC, Maryland, and Virginia that can lead to a great career.
No matter your area of expertise or years of experience, MJ Morgan Group can help you find a job that matches your skill set. When you work with us, you can even get help deciding if an engineering job is right for you. Below, we break down the types of jobs available in this industry and what it takes to succeed.
To speak with a recruitment specialist about finding an engineering job, please contact MJ Morgan Group today.
Types of Engineering Jobs
The professionals at our full-service recruiting firm have more than 30 years of combined experience filling engineering positions. No matter what specialty you're looking for, we can help you find the right fit. Here are some of the engineering jobs we have experience filling:
Civil Engineers
These engineers are typically responsible for creating, improving, and protecting our immediate environment. Responsibilities usually include overseeing construction and building projects and maintaining roadways, bridges, tunnels, and other avenues for transportation. Civil engineers must be able to develop detailed designs, conduct feasibility assessments and site inspections, and possess excellent problem-solving skills. Most positions require an individual to hold at least a bachelor's degree from a university that's been accredited by the Institution of Civil Engineers.
Mechanical Engineers
Mechanical engineers are responsible for the design, development, and testing of various mechanical and thermal sensors and devices. They are responsible for overseeing the design and development of many consumer products ranging from medical equipment to computer chips. Within the mechanical engineering field, individuals can further specialize in auto research, HVAC equipment, or robotics — to name a few. Individuals typically require a bachelor's degree and valid license to be considered.
Software Engineers
One of the fastest-growing engineering segments, software engineers develop computer instructions through algorithms. They typically help improve system quality, maintain existing codebases, and implement technical designs. Software engineers also investigate the use of new technologies to maximize efficiencies and make recommendations for design improvement.
Electrical Engineers
Electrical engineers deal in the design, development, and testing of electrical devices and equipment. Such equipment may include communications devices, power generators, or automotive or aircraft electrical components. They also lead the charge on manufacturing electrical devices, systems, and equipment. Electrical engineers must also ensure that all devices and systems are in compliance with installation, manufacturing, construction, maintenance, documentation, support, and testing best practices. Individuals must be licensed and hold at least a bachelor's degree to be considered for an electrical engineering position.
Environmental Engineers
Similar to civil engineers, environmental engineers work to improve and protect our environment. However, their focus is more on the world at large versus the manmade environments inhabited by our fellow humans. Environmental engineers may design projects for environmental protection, analyze scientific data, prepare and update environmental investigation reports, and provide guidance for corporations and governmental bodies on how to clean up contaminated areas. They conduct hazardous-waste management studies and design systems for municipal and industrial water supplies as well. Candidates must hold a bachelor's degree from an accredited institution to be considered.
Hiring & Recruiting Solutions
Whether you're broadening your career or searching for the perfect candidate, let MJ Morgan offer solutions catered to your unique needs.
Get Started Today
Skills & Qualities Needed for Engineer Jobs
Engineering is one of the most exciting, fast-growing segments out there. The shortage of talented engineers today means that a large inventory of engineering jobs sits vacant. As a result, people with the right education, qualifications, and experience are in high demand, both here in the DC area and across the country.
While each specialty requires a unique set of skills, here are the qualities that engineers need to succeed:
Analytical, critical thinking, and problem-solving skills
Leadership skills
Good communication skills
Attention to detail
Ability to work both independently and as a team
Comfortable giving and receiving feedback
Do your skills and interests match those on this list? If so, an engineering job could be right for you! Now all you need is the assistance of our recruiting firm to help you find a company in DC, VA, or MD that's looking for your unique talents.
To find out more about the qualifications required to be an engineer, or to request a job placement in the DC, Maryland, and Virginia region, please contact MJ Morgan Group today.
National Brand. Your Local Team.
From the DC metro area to the heart of Texas, we specialize in matching employers with job seekers. We do the hard work of hiring. From part-time jobs to payroll services to long-term consulting, we have a service that meets your needs.
National Brand.
Your Local Team.
Office Locations:
From the DC metro area to the heart of Texas, we specialize in matching employers with job seekers. We do the hard work of hiring. From part-time jobs to payroll services to long-term consulting, we have a service that meets your needs.