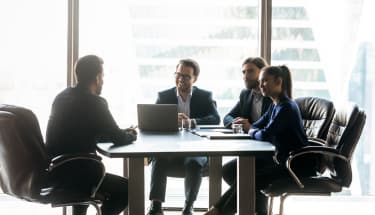 Professional Jobs in Hyattsville, MD
Sales, Marketing, IT Jobs in the Maryland Suburbs
Professional jobs generally require a bachelor's degree, master's degree, or Ph.D. Typical professional jobs in Hyattsville, MD, include:
Whether you're looking for your next great hire or your next great position, MJ Morgan Group's skilled recruitment team can help. Our specialty is building lasting relationships with employers that allow us to consistently place the right people with the right companies.
We also help candidates with the right qualifications for these types of jobs find the ideal position to jump-start their careers.
Finding a Professional Job in Hyattsville Online
Today's candidate-driven market provides an enormous opportunity for first-time job seekers and qualified professionals alike.
Whether you're a new graduate or a highly skilled specialist, if you're looking for a new career in the professional fields of marketing, sales, finance, IT, accounting, and more, MJ Morgan Group will work with you to find your ideal job.
On our online job portal, you can find a wide range of openings in nearly any field, including:
Accounting Positions
Whether you're looking for entry-level positions or you have years of experience, we offer attractive accounting openings at some of the best companies in Hyattsville and the greater DC area.
Engineering Positions
Connect with companies looking for talented mechanical engineers, electrical engineers, structural engineers, software engineers, and more in Hyattsville and Washington, DC.
Finance Positions
From marketing analysts and financial advisors to compliance analysts, find the types of accounting jobs to match your skill and experience.
Information Technology (IT) Positions
Expand your reach and find the ideal types of IT jobs for your skill set, such as network administrator, software engineer, programmer, or software designer.
Customer Service Positions
Choose MJ Morgan Group to find professional customer service opportunities throughout Hyattsville. We offer many types of customer service jobs in software and IT, accounting, finance, retail, hospitality, and more.
Sales Positions
When you want unique opportunities in sales and marketing, turn to our experts at MJ Morgan Group. We feature all types of sales jobs, from entry-level positions to openings at top firms with lucrative pay and commission structures.
Hiring & Recruiting Solutions
Whether you're broadening your career or searching for the perfect candidate, let MJ Morgan offer solutions catered to your unique needs.
Get Started Today
Find Qualified Professional Job Candidates With MJ Morgan Group
Why Employers Trust MJ Morgan Group for Staffing Solutions
MJ Morgan Group relies on a personalized, collaborative approach that matches ideal candidates with your organization's needs. Our years of experience and expertise have honed our skills in identifying and placing highly qualified people who can make a real difference in your business's success.
For over 30 years, we've helped Hyattsville-area employers find the professional talent they need to optimize performance and grow their bottom line. We're proud to have been named by the Baltimore Business Journal as one of the Hyattsville area's largest professional search firms and temporary staffing agencies.
When you work with MJ Morgan Group, you get much more than a traditional staffing firm. Our personalized services are tailor-made for your organization and reflect its culture, initiatives, and employee needs. So while we may be small compared to larger staffing firms, the advantages of working with our skilled team are anything but.
Our diverse team means we can work with employers and candidates from various backgrounds.
Our team members stay with us long-term. That means you get to work with the same staffing expert who truly understands your company time and again.
We understand the Hyattsville, MD, market in ways larger national firms often don't. We build relationships with employers and candidates, making it easier to place the right person.
Your organizational needs change day to day and year to year. Partnering with MJ Morgan Group ensures your professional job needs are met, and you're better positioned to compete. There's no simpler or more convenient way to guarantee your business's success!
Get Connected
Professional Silo Sidebar
National Brand. Your Local Team.
From the DC metro area to the heart of Texas, we specialize in matching employers with job seekers. We do the hard work of hiring. From part-time jobs to payroll services to long-term consulting, we have a service that meets your needs.
National Brand.
Your Local Team.
Office Locations:
From the DC metro area to the heart of Texas, we specialize in matching employers with job seekers. We do the hard work of hiring. From part-time jobs to payroll services to long-term consulting, we have a service that meets your needs.
2022 Salary Guides!
Professional Silo Homepage Salary Guides