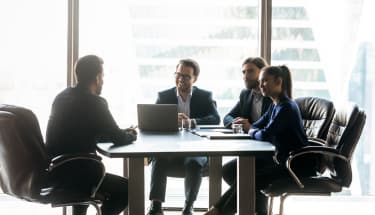 IT Jobs in Maryland, Virginia, Pennsylvania, Ohio, Texas & Tennessee
IT jobs are popular now, especially with technology evolving every day. Whether you are just starting your IT career or you're experienced in the realm of Information Technology, MJ Morgan Group has open positions for you! If you're still on the fence about whether or not the IT industry is for you, we break down some of the different types of IT jobs you can consider as well as the type of person that makes a great IT candidate.
Have questions about the Information Technology field? Contact us today to learn more!
Types of IT Jobs
IT encompasses a wide range of job titles, but we've broken down some of the most common ones for you below.
IT Consultant
IT job positions run the gamut from software development to infrastructure management, IT security, and application development. Entry-level or seasoned pro, our recruiters can help you find the right opportunity, help you prepare for an interview, and provide you with direct feedback from our and employer perspectives.
IT professionals help organizations maintain their digital infrastructure, provide troubleshooting assistance to technology customers, and help others keep up with security procedures and tech advances. In-demand IT jobs include computer support specialist, computer systems engineer, data warehouse analyst, IT project manager, and systems analyst.
Some of the most common IT job titles are:
Network Administrator
Network administrators serve as a company problem-solver when it comes to network software and hardware. In this role, you would implement and maintain different network programs for the company and fix any network problems. Network problems can result in breaches of security and a drop in performance, so being able to think quickly on your feet is a major skill needed for this position.
Data Architect
If you love technology and data, you'd be a fit for this role, which combines the two. Data architects oversee the design and maintenance of data across a company's systems and databases. The main goal of this position is to make sure all the data within the systems is correct and readily accessible. This role requires a knowledge of IT but also a deep knowledge of analytics and data.
Computer Technical Support Specialist
Computer technical support specialists help to solve problems within a company or for a company's clients. If you have a strong knowledge of all things computer, such as systems, hardware, software, and specific products, then this could be a great role to consider! For this job, it's important to enjoy learning, as you'll always need to stay up to date on all technologies and the issues that accompany them.
No matter where you might be in your IT career, MJ Morgan Group can connect you with organizations looking for your cloud computing, business intelligence, and other IT skills. We focus on matching you with technology jobs in virtually every area of IT.
Interested in these jobs? Check out open IT positions in the DC, Maryland, and Northern Virginia regions!
Hiring & Recruiting Solutions
Whether you're broadening your career or searching for the perfect candidate, let MJ Morgan offer solutions catered to your unique needs.
Get Started Today
Who Makes a Good Candidate for IT Jobs?
While each Information Technology position requires a unique set of skills, generally IT professionals are:
Detail-oriented, since finding problems within intricate systems is common
Analytical
Creative when it comes to solving complex issues
Able to apply business goals to technology
Able to evaluate different IT options
Able to explain complex issues in an easy-to-understand way
If these skills sound like you, then consider a job in IT! You'll be helping your company function efficiently to meet its goals and solving problems in creative ways.
Want to learn more about what makes a good IT candidate? Contact the team at MJ Morgan Group today!
Start Your IT Career With MJ Morgan Group
At MJ Morgan Group, we're committed to helping our employees reach their full potential. We have a variety of Information Technology jobs in the DC, Maryland, and Virginia markets. Our team of employment experts can help you land the job you've been dreaming of. We pride ourselves on being reliable, responsive, and resourceful to try to deliver the best experience possible to our employees.
Frequently Asked Questions about IT Jobs
Why should I work with MJ Morgan Group to find an IT job?
No agency knows the DC, Maryland, and Virginia IT employment marketplace better than the specialists at MJ Morgan Group!
What happens once I apply for an IT job online?
Once you identify the IT positions you're interested in and qualify for, submit your online application. One of our recruiters will then review your qualifications and determine which of our available jobs fits your skills and desires. When a good available job match is identified, a recruiter schedules an interview with you. Once you pass our pre-employment screening process, the recruiter schedules an interview for you with the employer.
I applied for a position. Why haven't I heard back from you?
If you qualify for an IT position you found listed on MJ Morgan Group's website but haven't heard back from one of our recruiters, please follow up by contacting us online or calling us at 833-656-9675.
See how MJ Morgan Group provides professional excellence with a personal focus – check out our employee career path to learn more about our process.
National Brand. Your Local Team.
From the DC metro area to the heart of Texas, we specialize in matching employers with job seekers. We do the hard work of hiring. From part-time jobs to payroll services to long-term consulting, we have a service that meets your needs.
National Brand.
Your Local Team.
Office Locations:
From the DC metro area to the heart of Texas, we specialize in matching employers with job seekers. We do the hard work of hiring. From part-time jobs to payroll services to long-term consulting, we have a service that meets your needs.