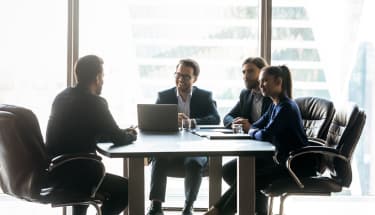 Temporary Employment Solutions
Why pay for permanent labor when you don't really need it? If you choose to hire temporary workers during the busy season, you can get the extra help you need when you need it while decreasing the cost to run your company. MJ Morgan Group can help you recruit the right temporary staff to keep up with demand. This service provides you with the flexibility you need to remain successful in a competitive industry.
Quality short-term employees are only a phone call away! To supplement your permanent workforce with temporary staff during the busy season, please contact MJ Morgan Group today.
What Are Temporary Employment Services?
Does your company juggle unpredictable workloads, fluctuating project work, or seasonal peaks? If so, temporary employment is the ideal solution. This staffing option is also suitable for hiring a short-term stand-in for an employee while they're on a leave of absence.
Temporary positions typically have a set time frame, which you establish based on your company's needs. Throughout the time a temporary employee works for you, they remain employed by the staffing agency.
Hiring & Recruiting Solutions
Whether you're broadening your career or searching for the perfect candidate, let MJ Morgan offer solutions catered to your unique needs.
Get Started Today
3 Benefits of Temporary Employment
The flexibility of hiring someone temporarily offers tremendous benefits:
Fluctuate with demand: The busy season puts a strain on your permanent employees. Adding temporary workers to the floor lifts this burden to ensure good morale and productivity. This ensures your team receives the extra help they need while keeping your business profitable.
Avoid making a commitment: When the busy season ends, and the contract expires, the temporary labor moves on with no penalties or hard feelings on either side. You don't have to worry about layoffs, employment paperwork, worker's compensation, or unemployment benefits.
Give employees a resume-building experience: Temping provides the opportunity to gain knowledge on different projects in diverse industries that could lead to a satisfying career later on. Emphasize this benefit whenever you look for short-term workers.
How Does Temporary Employment Work?
As a business owner looking to bring on more people during the busy season, there's no better option than working with a staffing agency. Here's how temporary employment works with MJ Morgan Group:
Our recruiters sift through a pool of candidates to help you find a qualified, temporary workforce. To ensure applicants meet your requirements, we pre-screen and interview people before sending them your way.
Once you have a list of the most qualified candidates, you decide how to interview them, whether in person, as a group, or over the phone.
Hire the number of temporary workers you need for as long as you need them. They'll remain employed by and receive benefits from MJ Morgan Group.
Temporary Employment FAQ
Do you have questions about temporary employment? MJ Morgan Group has the answers. Check out these common questions we hear from our clients.
What is a temporary position?
A temporary position is one that is less than one year and does not exceed 999 hours in the calendar year. This could be seasonal or ongoing, depending on the needs of the business.
How are benefits handled for temporary employees?
Temporary employees do not have to receive benefits. They are paid overtime if they are hourly employees and work more than 40 hours, but they do not receive compensatory time. All hours, including overtime, are counted toward the 999 hours.
Temporary employees are considered not benefits eligible. This means group insurance plans, disability insurance, retirement plans, and flex spending accounts don't apply to these employees. They also can't get vacation or sick leave.
Voluntary benefits plans, like 457 Deferred Compensation or 529 Education Savings Plans, are allowed for temporary employees.
Can temporary employees qualify for Affordable Care Act coverage?
Yes, if the employee works the minimum number of hours for the eligibility period, they may become ACA eligible as a temporary employee.
Who is responsible for temporary worker safety?
It is typically the employer's responsibility to ensure that the temporary worker has the right safety equipment to do the job safely. Employers are also required to provide a safe work environment per OSHA. If special training is needed, that can be the staffing agency's responsibility, but some employers will provide the training on-site.
Do you have further questions about temporary employment in the Washington, DC, area? MJ Morgan Group is ready to answer them. We focus much of our work on pairing temporary employees with businesses who need them and understand how the process works. Contact MJ Morgan Group today for expert guidance on how to best bring temporary workers on board.
Why Choose MJ Morgan Group As Your Staffing Agency?
Businesses in DC, Maryland, Virginia, and beyond rely on MJ Morgan Group for experienced employees who can provide support during the peak season. We adhere to and promote the legal, ethical, and professional practices of the staffing industry to ensure the benefit of everyone involved. When you team up with us for your temporary staffing needs, you'll enjoy outstanding customer service, unmatched hiring flexibility, and more free time to focus on growing your business.
Request Temporary Employment Services in Washington D.C., Maryland & Virginia
While permanent staffing may be an important aspect of your overall business plan, it may not be possible to get it all done without a temporary workforce at certain times of the year. MJ Morgan Group has the knowledge, experience, and resources needed to access short-term labor for your company.
In addition to temporary employment, we also offer direct hire, contract to hire, and payroll services. Let us handle it all! To learn more, please contact us today.
National Brand. Your Local Team.
From the DC metro area to the heart of Texas, we specialize in matching employers with job seekers. We do the hard work of hiring. From part-time jobs to payroll services to long-term consulting, we have a service that meets your needs.
National Brand.
Your Local Team.
Office Locations:
From the DC metro area to the heart of Texas, we specialize in matching employers with job seekers. We do the hard work of hiring. From part-time jobs to payroll services to long-term consulting, we have a service that meets your needs.