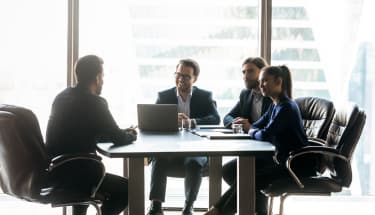 Customer Service Staffing in Manassas, VA
If you're interested in a customer service role with an established Manassas employer, MJ Morgan Group is ready to assist you. Our expert recruitment specialists excel at connecting qualified, enthusiastic applicants with engaging customer service positions in Manassas.
Our application procedure is simple, and we offer employee benefits and job supports, like transportation to work. Customer service — often called customer care — is both challenging and satisfying for a well-suited individual. The positions offer unique tasks to complete and intriguing customer problems to solve daily — so you'll never be bored. Typically, you'll work in an office environment, at a desk.
Contact MJ Morgan Group online, and you'll soon begin interviews for your next career step as a customer service representative!
Tags:
All Jobs:
Healthcare
primary care
accounting
Accounts Payable
Finance and Accounting
Accounting and Finance
designer
Mechanical
Associate Lawyer
Law
design engineer
Engineering
Health
paralegal
legal assitant
horses
Customer Service Rep
equine
Real Estate
Administrative
Marketing
A/E/C
Proposal Coordinator
AutoCAD
Revit
Interior Design
Architecture
#bilingual
#HR
#HumanResources
Project Management
mechanical engineering
Civil Engineer
structural engineer
Structural Engineering
electrical engineer
Accountant
finance
Human Resources
| | |
| --- | --- |
| Medical Assistant | Catonsville, MD |
| Accounts Payable Specialist | Baltimore, MD |
| Staff Accountant | Baltimore County, MD |
| Accounts Receivable Specialist | Baltimore, MD |
| Mechanical Designer | Baltimore, MD |
| Healthcare Office Administrator | Washington, DC |
| Litigation Associate | Baltimore, MD |
| Director of MEP Operations | Arlington, VA |
| Bilingual Patient Service Representative | Marriottsville, MD |
| Paralegal, Workers Compensation | Towson, MD |
| Equine Customer Service Representative | Hunt Valley, MD |
| Mechanical Design Engineer | Baltimore, MD |
| Property Administrator | Baltimore, MD |
| Senior Accountant | Columbia, MD |
| Accounting Analyst | Baltimore, MD |
| Proposal Coordinator, Marketing Team | Towson, MD |
| Designer/Space Planner | Baltimore, MD |
| Bilingual HR Specialist | San Antonio, TX |
| Project Manager, Mechanical Engineer | Baltimore, MD |
| Structural Engineer | Annapolis, Md |
| Investigative Civil/Structural Engineer | Shelton, CT |
| Electrical Design Engineer | Baltimore, MD |
| ElectricalDesign Engineer | Baltimore, MD |
| BIM Technician | Baltimore, MD |
| Transportation Project Manager | Laurel, MD |
| Civil Engineering Site Team Lead | Ellicott City, MD |
| Senior Land Development Engineer | Gaithersburg, MD |
| Civil Engineer Project Manager | Baltimore, MD |
| Accountant | Baltimore, MD |
| Civil Engineer | Gaithersburg, MD |
| Account Manager/ Recruiter | Harrisburg, PA |
| Account Manager/Recruiter | San Antonio, TX |
| Administrative Assistant | Parkville, MD |
Currently Available Manassas Customer Service Positions
Whether you're seeking an entry-level CSR position, a mid-career customer service job, or a more senior role, we can help you find work in industries such as:
Marketing and sales: In marketing and sales, you need to study your customer base intently, determine how to address them, and draw them in.
Finance: In the finance industry, you can help customers navigate the financial world.
Tech: In the IT or technology department of a major firm, you might provide general customer care, product information, or even tech support.
Accounting: In accounting, you might provide customer service in the areas of accounts payable or serve as a tax preparation company's customer service rep.
And many more fields!
Get started today! Contact MJ Morgan Group for further information or to start your application and interview.
Hiring & Recruiting Solutions
Whether you're broadening your career or searching for the perfect candidate, let MJ Morgan offer solutions catered to your unique needs.
Get Started Today
Is Customer Service Work a Good Fit for You?
Find out if you're a good candidate to fill one of the customer service representative jobs available from our local business partners in Manassas.
Qualities for CSR success include:
Communication skills: You will almost constantly communicate with customers in your customer service position. Communicating clearly and easily is crucial.
Reliability: You'll need to demonstrate your dependable nature to gain your employer's trust and represent the company well.
Friendliness: You'll excel in your position provided that you truly enjoy interacting with customers and helping to solve their problems with a positive attitude.
Attention to detail: Details matter in a customer service position, so if you have good follow-through and nothing slips past you, you'll be a great CSR.
Adaptability: Customer service is a dynamic job, where each customer conversation and situation is unique. Being flexible enough to pivot and change direction as needed will help you succeed.
Computer skills: As with most jobs, customer service requires basic technical knowledge and comfort with computers. You may not be an expert in every type of customer care software or CRM (customer relationship management) tool, but the ability to get up to speed quickly is essential.
Contact us to begin your application process with MJ Morgan Group today!
Why Choose MJ Morgan Group to Find a Customer Service Job in Manassas?
At MJ Morgan Group, we have business partnerships with the most sought-after companies in the Manassas area. With our connections and in-depth experience in pairing the right person with the right job, you can't go wrong.
There's no need to struggle to locate a Manassas customer service job on your own. Let our expertise guide you toward success and make the job-hunting process quick and easy. That's what we're here for!
Contact MJ Morgan Group to learn more or start our quick and easy application and interview process! Not sure customer service is for you? We also place candidates in positions in the food production, healthcare, and light industrial fields. 
FAQs
Some of the frequently asked questions we receive about customer service jobs in Manassas, VA, include:
Do customer service jobs pay well?
A lot depends on where you live and individual companies. Some customer service jobs pay quite well. They include:
Account representative/coordinator
Administrative assistant
Bank teller
Benefits coordinator
Call center professional
Cashier
Client relations professional
Client services coordinator/manager
Concierge
Flight attendant
Help desk/IT professional
Hospitality manager
Maître d'
Medical coordinator/receptionist
Member services representative
Paralegal
Patient coordinator
Receptionist
Social media specialist
Technical support
What are three important qualities of customer service employees? What three skills are needed?
There are traits and qualities employers look for in customer service positions. Good qualities are patience, enthusiasm, and compassion — the desire to help those in need.
Skills can be learned. Some of the skills customer service professionals should demonstrate are:
Company knowledge
Effective communication
Stress management
What are the best customer service jobs?
What is best for you may be different for someone else. The "best" customer service jobs are the ones that fit your personality, meet your work/life balance, and offer the rewards and advancement you need.
If working remotely is what you need, there are many suitable customer service positions. Working with the public, representing your company's brand, can jump-start you on a career path of your choosing. You might consider:
Contracts manager
Finance professional
Marketing/sales professional
Production associate
Tech support specialist
What will I be expected to do as a customer service professional?
"Customer service" is a job in which you manage a positive customer experience. During your interaction with the customer, they form an opinion about you and your company. Customer service can be delivered during a purchase, post-purchase, or as part of your company's service to customers or other businesses. It can be by phone, messaging/chat, or face to face.
Your tasks and responsibilities vary according to where you work and what your job title is. But every customer service role is critical to the well-being of the company represented. Companies are very diligent about the type of person they want to fill a customer service job.
Whether or not a customer is satisfied and will return is important. When customer service is so excellent that your customers provide feedback or share their customer service experience with others, it builds brand loyalty. Customer service professionals strive to give customers:
Easy access to customer service
The fastest possible response to customer's questions or issues
Feedback about the quality of customer service provided
Friendly, pleasant, customer care experience
Knowledgeable, effective solutions and resolutions
Companies are looking for someone like you. Contact us today to learn more. 
Get Connected
Professional Silo Sidebar
National Brand. Your Local Team.
From the DC metro area to the heart of Texas, we specialize in matching employers with job seekers. We do the hard work of hiring. From part-time jobs to payroll services to long-term consulting, we have a service that meets your needs.
National Brand.
Your Local Team.
Office Locations:
From the DC metro area to the heart of Texas, we specialize in matching employers with job seekers. We do the hard work of hiring. From part-time jobs to payroll services to long-term consulting, we have a service that meets your needs.
2022 Salary Guides!
Professional Silo Homepage Salary Guides